Facts & Figures
Limestone rocks divide the Rhine Falls into the Zurich, Schaffhausen and Mühle Falls. The middle rock forms the border between the two cantons of Zurich (left bank) and Schaffhausen. The Rhine Falls are among the waterfalls that are least affected by erosion.

Age
14'000 – 17'000 years


Capacity of flow
600'000 l/s summer
250'000 l/s winter


Extreme Capacities of flow
1`250`000 l/s summer 1999
95'000 l/s winter 1921

Dimension
150m widht
23m height


Day Tourists
1.5 million per year

Wetter und Live-Cam
The current weather and the live view of the Rhine Falls in Neuhausen.
Current weather
In Neuhausen am Rheinfall
Cultural History
Already in the 11th century a small mill was run on the left side of the Rhine Falls. Later grinding workshops and blacksmiths' shops were added. Already since the beginning of the 19th century there were two dams located just above the falls, which fed the necessary water to the waterwheels of the ironworks and the mill via the canal intakes. In the 16th century, if not earlier, iron ore was smelted at the Rhine Falls. Towards the end of the 18th century the furnace was shut down again. In 1810 Johann Georg Neher acquired the ironworks and built it up to be the first significant industrial ironworks at the Rhine Falls. In 1853 the Swiss railway carriage factory, "Schweizerische Waggons-Fabrik", (later called SIG) was founded. A crucial factor for the foundation of the company was, among other things, the use of hydroelectric power.In order to also make use of the water power, the company, Aluminium-Industrie-Actien-Gesellschaft Neuhausen was founded in 1888, with the aim of producing aluminium. In 1945 the aluminium production was shut down.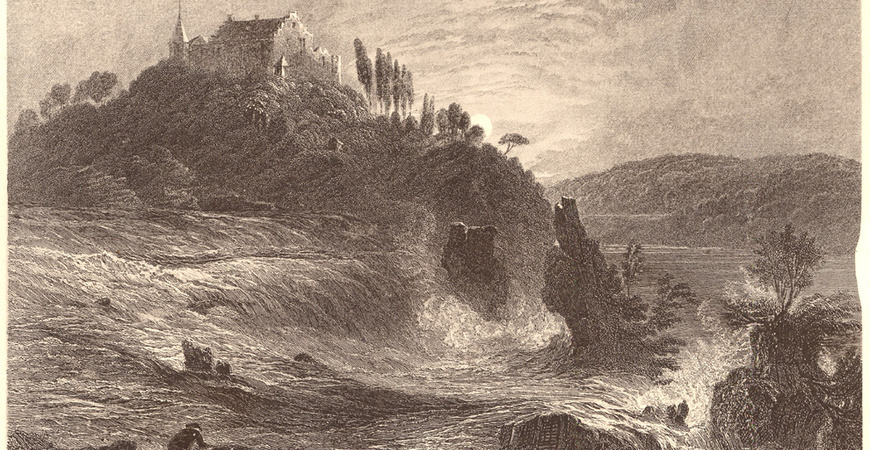 In particular towards the end of the 19th and beginning of the 20th century thought was given to the technical use of the Rhine Falls. Projects such as making the Rhine Falls navigable or ideas for the use of hydroelectricity stood little chance. To this very day water power is used to generate energy at the Rhine Falls. The performance of the Rhine power plant Neuhausen is with its 4,4 MW rather modest in comparison to the largest power plant located at the High-Rhine with 120 MW. The linking up of the Rhine Fall region with the railway network in the second half of the 19th century led to a boom in the Rhine Fall hotel industry. The Hotel Bellevue was built opposite the "Badische Bahnhof" train station in 1862 – 1844 Hotel Weber and 1861 Hotel Schweizerhof. The guests were able to reach the Rhine Falls undisturbed by promenading through the various parks. The decline of the hotel industry in Neuhausen already began at the turn of the century. The reasons were the rise of tourist centres in the Swiss mountains, the development of Neuhausen to an industrial area, as well as changed travel behaviour.